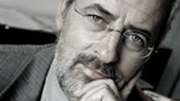 STS00? – Alexander Ziegler-Jöns – Jacobs Universität
Biophysicist by training, Alexander has more than 20 years experience in the planning and implementation of scientific programs and institutions, fostering of regional development by research and higher education. He had been a member of juries in Stockholm, Rome, and Bremen that evaluated the role of ICT for the benefit of young people and/or their communities. He had been a member of the Planning Committee for International University Bremen, and CEO of the Planning Corporation of IUB, now Jacobs University. He has more than 15 years experience in entrepreneurship and transfer of research into business through licensing and spin-off companies, and he is today the CEO of Jacobs University's holding for spin-offs, JCBS Holding Gmbh, and of a spin-off from Alfred Wegener Institute in Bremerhaven, Vivace GmbH. He is member of the Investment Committee of the Serbian Innovation Fund.
Spezialgebiete: Thinking and working in scenarios for mid- and long-term plans; government liaison; management of complex, loosely connected systems like universities or networks; starting businesses.